Welcome to the 3rd Microbiome Movement - Human Nutrition Summit
Intimately connected with the external environment, including dietary intake, there is great potential to better understand diet-microbiome interactions to make long term health improvements. Celebrating our third year, the Microbiome Movement team have once again worked closely with experts from the food science, supplement and nutraceutical community to understand how researchers can better utilise cutting edge microbiome R&D to help develop precise nutritional solutions that promote long-term human health. With insights from experts in academia and industry, this year's Microbiome Movement – Human Nutrition Summit will address three key topic areas:
Better demonstrate the scientific and clinical efficacy of diet-microbiome interactions across a diverse range of health indications and mechanisms
Translate cutting-edge microbiome science and dietary ingredients to accelerate the development of personalized nutritional solutions
Understand and overcome critical regulatory, commercialisation and educational challenges needed to accelerate product development, communicate the benefits of microbiome research and help drive the food, nutrition and nutraceutical field forward
"This is an important cross-fertilization of the growing microbiome research community and the well-established community of researchers in human nutrition."
Evolve Biosystems
"This event brought together companies that have never shared the stage together before. This created visibility to companies advancing microbiome science into real products and services and established the Microbiome Movement as a place to present innovation."
Sun Genomics
"The Microbiome Movement - Human Nutrition Summit is THE forum for information exchange among leaders working to advance science and technology applied to gut interactions impacting human health."
Brigham Young University
"Good program which gave me a good overview of what was going on in the Microbiome human health space."
Friesland Campina Innovation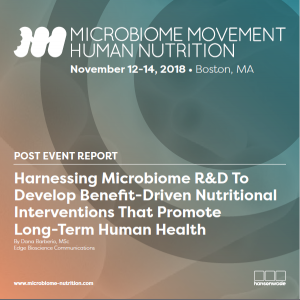 Highlights From Our 2018 Meeting
Thank you to everyone who joined us in 2018 and made the meeting such a huge success.
We were honoured to welcome experts from the food, supplement and nutraceutical community to discuss and overcome the greatest challenges and opportunities in developing dietary solutions based on microbiome innovation.
You can view our event highlights here.
Additionally, register your interest to receive agenda and speaker updates for the 2019 program as they are announced.